All Pointes Auto Service will perform nearly any service on almost every make and model vehicle.
Below, we have listed some of the more common services we perform on vehicles:
General Auto Service & Vehicle Repair Services:
Automotive Service, Car Repair, Vehicle Maintenance, Auto Mechanic, Auto Repair, Scheduled Auto Repair, Pick-up / Drop-off Service Available
Diagnostic Services:
Comprehensive Computer Diagnostics, Vehicle Systems Performance Evaluation, Complete Vehicle Safety Analysis
Performance Services & Engine Tune-up:
Enhanced Drivability & Performance Service, Engine Tune-up, Vehicle-System Overhaul, Fuel Filter Installation, Fuel Filter Maintenance, Fuel Filter Removal, Fuel Filter Repair, Brake Hoses, Coolant Hose, Drive Belt, Fan Belt Replacement, Fuel Hose Replacement
Wheel, Tire, Steering & Suspension Services:
Wheel Alignment, Tire Replacement & Rotation, Steering & Suspension Service, Power Steering Fluid Flush, 4×4 Suspension Maintenance, Independent Rear Suspension Service, High Performance Suspension Service, Leaf Spring Suspension Service
Transmission & Differential Services:
Transmission Service, Transmission Fluid Flush, Differential Diagnosis, Differential Rebuild, Differential Fluid, Differential Parts, Rebuilt Transmission Service, Transmission Replacement, Transmission Adjustment, Transmission Filter & Fluid Replacement, CV Shafts & Boots, Transfer Case, Drive Shaft & U-Joints Service & Repair
Maintenance Services:
Oil & Filter Change, Tire Rotation, Power Steering Fluid Flush, Transmission Fluid Flush, Oil Filter Replacement, Air Filter Replacement, Fuel Filter Replacement, Cabin Filter Replacement, Oil Change Service
Brake Repair Services:
Brake Pad Replacement, Rotor Replacement, Caliper Replacement, ABS System Brake Repair, Brake Bleeding, Brake Adjustment, Brake Replacement Service, Brake Rotor / Drums Replacement
Engine Repair:
Hybrid-Engine Repair & Service, Conventional Engine Rebuild & Repair, Fuel System Repair, Emission Repair Service, Spark Plug Replacement, Serpentine Belt Replacement, Engine Replacement, Head Gasket Repair, Oil Pump Replacement, Camshaft Repair, Crankshaft Repair
Vehicle Heating, Ventilation and Air Conditioning:
Air Conditioning Service, Air Conidtioning Recharge, Ambient Temperature Switch, Blower Motor Repair, Blower Motor Replacement, Condenser & Compressor Repair & Replacement, Heater Core Repair, Evaporator Repair & Replacement
Electrical System Service: 
Electrical System Service, Wiring Harness Replacement, Fuse Replacement, Circuit Diagnosis & Repair, Sensor Replacement, Power Window Repair, Power Seats Repair, Heated Seats Repair, Power Mirror Repair & Replacement, Brake Lamp & Headlamp Replacement, Alternator Belt, Alternator Repair, Alternator Replacement, Alternator Testing, Alternator Troubleshooting
Radiator & Coolant Service:
Coolant System Service, Radiator Flush & Repair, Theromostat Replacement, Coolant Change (Flush), Coolant Filter, Coolant Pump, Coolant Reservoir Tank, Coolant Temperature Sensor Replacement
Muffler & Exhaust Service:
Exhaust Muffler & Tailpipe Replacement, Catalytic Converter Repair & Replacement, EGR Cleaning, EGR Modulator, EGR Repair, Exhaust Manifold Service, Exhaust Resonator Service
Accepted Payment Types:
All Pointes Auto Service accepts the following
forms of payment upon delivery of our services:
Cash, Personal Check, Visa & Mastercard
Professional Certifications:
All Pointes Auto Service maintains the following professional certifications & affiliations:
ASE Certified Master Mechanics
ASE Certified Engine Repair
ASE Certified Brakes
ASE Certified Engine Performance
ASE Certified Electrical/Electronic Systems
ASE Certified Heating & Air Conditioning
ASE Certified Suspension & Steering
ASE Certified Manual Drive Train & Axles
ASE Certified Automatic Transmissions
All Pointes Auto Service is conveniently located, just west of I-94 on eastbound 9 Mile Rd in Eastpointe.
Please come by and see us soon!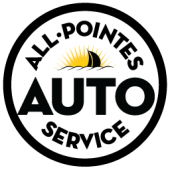 Regular Business Hours:
Mon – Fri: 8am – 6pm
Sat & Sun: Closed